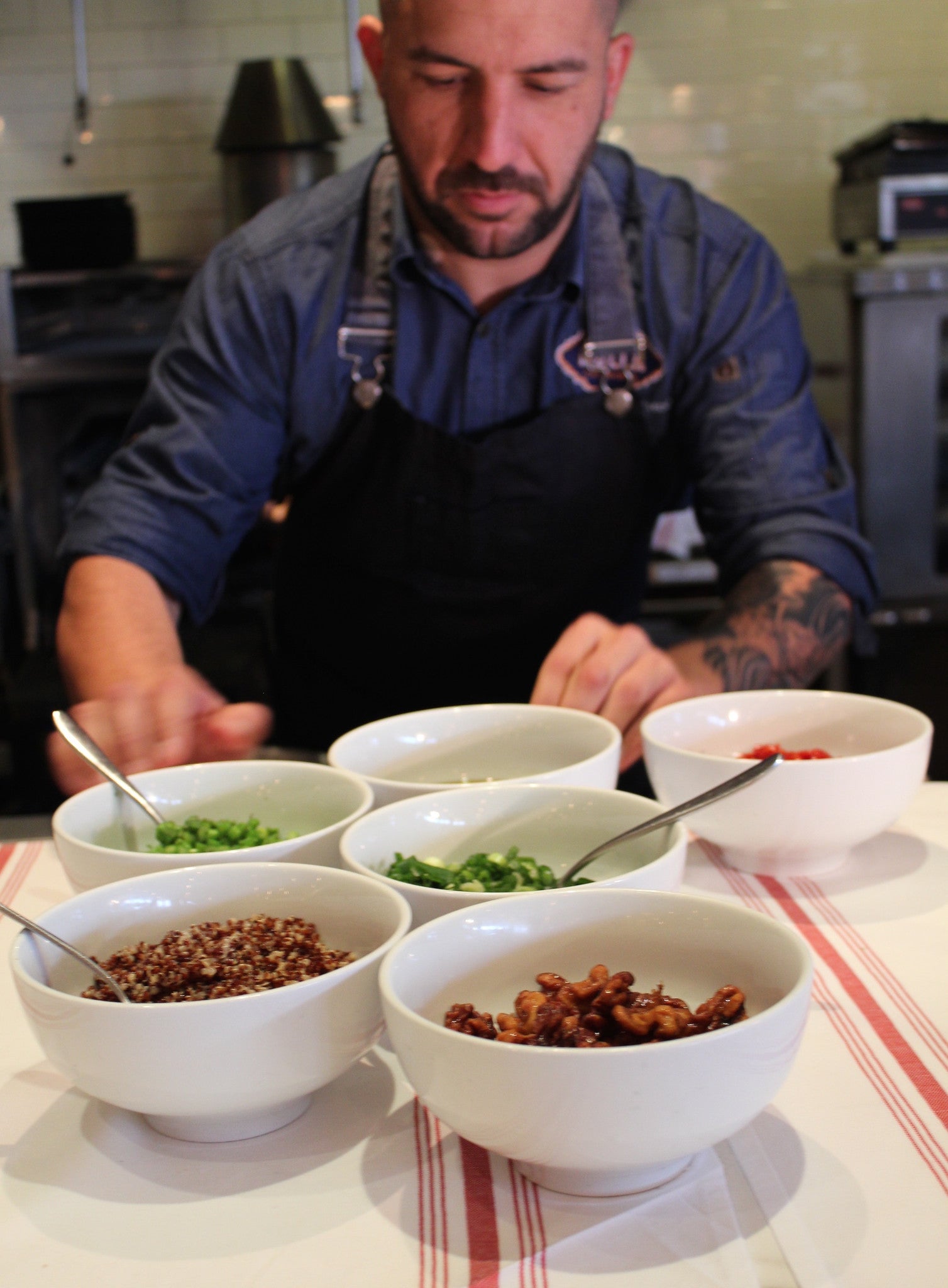 Chef Miguel Angel Rebolledo
I met Miguel a couple of months ago and I have to say he is one of the most charismatic, nicest and talented Chefs I know. He always has a big smile to greet you with, and a delicious dish to leave you in awe...
His resume talks by itself, he worked at El Bulli, world known for being the most controversial and experimental restaurant in the world which received over 1'000,000 reservations per year. Not only this, but he worked hand to hand with Chef Jose Andres, recognized by Times Magazine on the "Time 100" list of most influential people in the world. So don't be fooled by his nice chef attitude! this guy can Rock any menu like no other.
Currently he is the Executive Chef of Bulla, creates their menu concepts and brings to life this delicious dishes. He believes in creating a recipes based on outstanding product, anything that is good and fresh, something simple but always enlightening the product, that is way he chooses Pur Superfoods as his provider for Quinoa, Walnuts and Almonds!
Talking about cooking and prepping your own food, he says that there is an added value to buy and prepare your own food, because it brings the family together, it lets you control the freshness and quality of your food, but overall... Cooking is beautiful <3
When asked why its important to add Super Foods (like Quinoa, Chia, Walnuts, mooringa among others) to your every day menu he says; "Its important because in the midst of all the bad products we consume like, artificial juices, sodas and basically the bad stuff that its hidden form us, consuming these type of food helps us balance out all the bad stuff.
Feeling hungry and inspired? to the Recipes we go:
GROUPER AND QUINOA
1 Tbsp Candied walnuts

1 Tbsp Chopped Scallions

1 Tbsp Blanched Sparragus

1 Tbsp Prepared Red spanish bell peppers. (over a medium heat pan with some Olive Oil and garlic)

3 to 4 Tbsp Home made Vinaigrette, Olive oil, Soy sauce and Sesame oil
Mix it everything, let it sit 
For the Grouper, if you have a Josper Oven you can do it in it. But if you are like me and probably the 90% of the ones reading this, this is what we can do at home... In a very hot skillet drizzle with some Olive oil and seal it turn it to the other side and let it cook for another 4 to 5 minutes and Voilà!
Top it with a couple of table spoons of the vinaigrette and some micro basil. (Optional)
Check our YouTube Video for the complete Interview. The interview is in Spanish and I had a problem with the camera focus but it has very good content! Hope you {Enjoy it}
---